Mexican Cupid Dating Site Review
It's a common belief that the Internet isn't the place to seek for the partner of your life because the relationships there can be a fake or fraud. However, we live in the epoque of digitalization and ignoring such a big communicating portals as dating resources means to be old-fashioned and too conservative.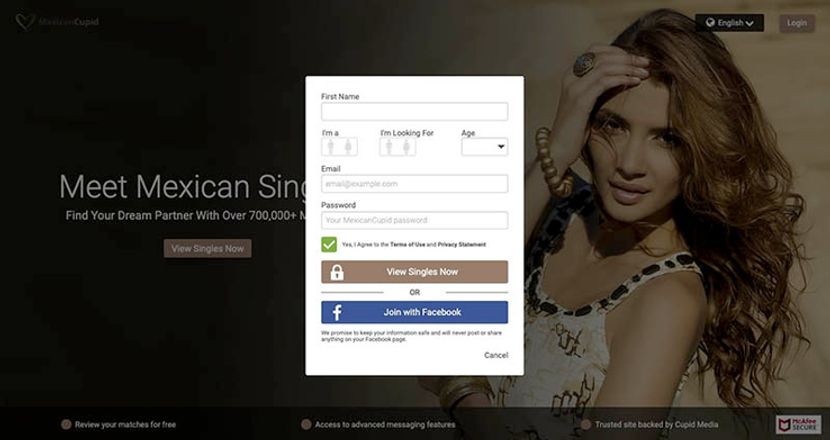 One of the best examples of digital progress is the ability to find your love online. Cupid Media is one of the biggest dating portals that allow you to seek for the soulmates on the safety, well-known, top-rated websites. Mexican Cupid is an example of such a verified platform. As it's a part of the Cupid Media, the usage of this site will be on the highest level. Check more details in the following review on why it's worthy to become a member of MexicanCupid.
First impression
The first time you visit Mexican Cupid, you will be surprised by its convenience and coziness. One important feature that makes social platforms so popular is the contentment of website usage. The more simple it is, the less time you will spend to understand how to operate it and more time to seek for your soulmate. The dating site has an unsophisticated and pleasant interface.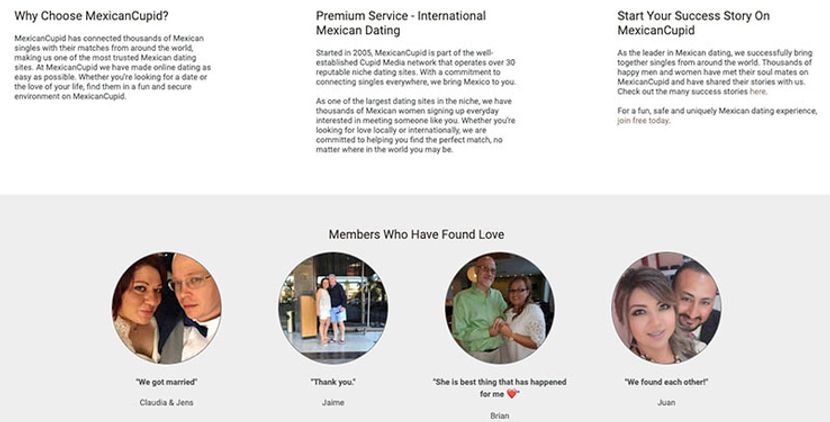 The first thing you encounter on the portal is the registration form. When you log in, you will go directly to the frontal page. There you will be given the statistics of:
How complete is your profile;
How many messages you have;
Your new interests;
Who visited your page;
The people who you selected.
How do you set up your profile?
Your account is your advertisement, that's why all the details about your personality are quite important. As each social platform, you have to sign up on Mexican Cupid.
If you want to utilize the services of this social network, you need to give some information about yourself to become a full-fledged user of the dating platform. The following information will be asked:
Your first name;
Your gender;
The gender you are looking for;
Your email;
The password.
Moreover, you can take your Facebook account as a base to sign up without your email. The next step will be to upload your photo if you want. And all these things are free for you to complete.
How do you search and sort the ladies?
There's a special system on how to seek your real soulmates with the minimum level of the lie. You can track down women by some special features of her:
First name;
Date of birth;
Country;
City;
Appearance: hair color, eye color, height, weight, stature, ethnicity, body art, etc;
Lifestyle: drinking/smoking habits, marital status, children, pets, occupation, employment status, and living situation;
Type of relationship she is looking for;
Cultural values;
Interests;
Personalities;
Cupid tags.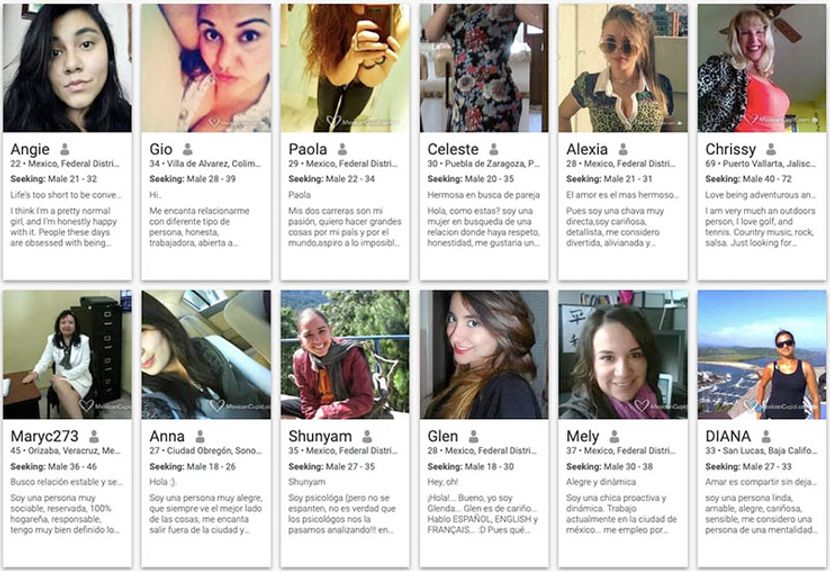 After that, the site will present a list of the possible crushes that you may like. You can choose on your own if you want to get on with them or not.
How do you communicate?
When you join the MexicanCupid, you automatically get access to the two types of functions: free and paid. What makes a distinction between them is that paid services give more abilities to communicate.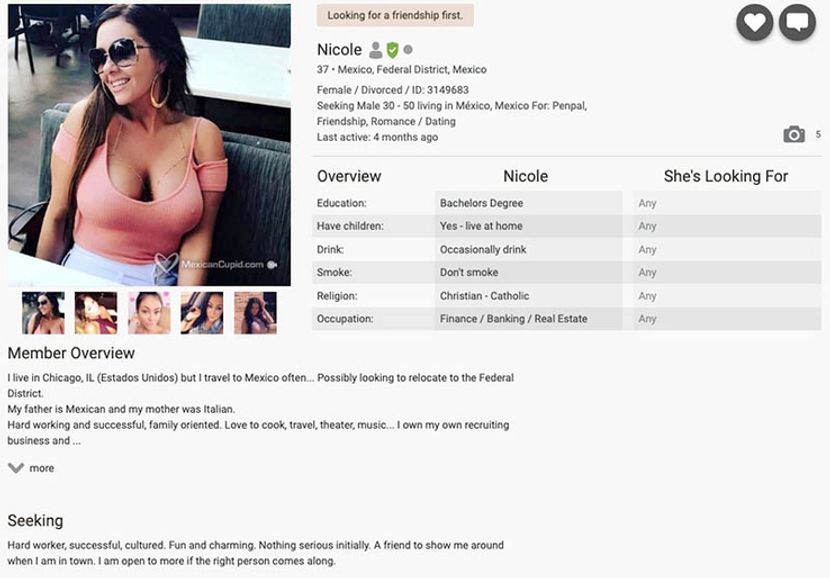 You can exchange messages, emails, photos, videos, and gifts. Your possibilities there depend on your type of membership.
Does MexicanCupid have an application?
One feature that makes MexicanCupid more popular than other dating sources is an app. 

There's a special mobile version for the Android on Google Play that allows keeping in touch with your match not only by using a computer but also in the more distant forms.
A free version of the site
Services that are available without extra paying are:
Registration and creating an account;
Posting photos;
Match system;
Sending interest;
Chatting with all the members;
Online and offline functions;
Searching and browsing profiles;
Viewing profiles;
Adding to Favorites.
What does a paid membership offer?
Considering the fact you want more entertainment in your conversation, there are some additional features for the money. You will pay the monthly subscription to obtain new abilities in the communication:
Communication with all members (Gold and Platinum members);
Live chat with instant messenger
Exchange with messages;
No ads;
Hide your profile and view anonymously;
Rank system;
Doubling your profile space;
VIP profile highlighting;
Exclusive search features.
Pros and Cons of the dating site
Pros
Simple interface and design
Help for the users
High security level
ID verification system
No underaged members
Reasonable prices
Cons
The application doesn't support IOS
You can't post the videos
There's a help center that will give you the advice and directions on what to do in some specific situations. The name of that function is a "member help." It consists of the next topics:
Account management - some general hints about your page;
Profile management;
Photo management - how to delete or download the photos;
Messaging process;
Interests - how to fill the filters to search for the person by the interests;
Membership options and payment - money issues;
Languages - how to set up the right language;
Safety and security of your personal data
Technical issues - problems with a password, email.
With each kind of difficulty, you can ask the support team of MexicanCupid by sending an email with your problem. Then they will advise you on a solution to it.
F.A.Q
Are there only Mexican women?
Even though the site is called MexicanlCupid, Latina ladies aren't the only focus group of that social platform. There are members from the EU, the USA, Asia, and even some long-distant islands. You are able to find lots of different ladies with different appearance, interests, and hobbies.
What does a "search system" mean?
Can there be underaged on the site?
To conclude, Mexican Cupid is a top dating resource that gives you the chance to find your soulmate on the pleasant and clear-cut site. It is part of the Cupid Media group, which means quality, security, and technical support on the highest level. The most important thing is that during the love-seeking process you won't be disturbed by the complicated interface system or problems with your data. Everything is made to surround you with a pleasant atmosphere to create your love story.