ThaiCupid Site Review
If you are interested in beautiful Thai women, Thai Cupid is a solid solution for every western man. The dating platform is safe and secure and has led to some satisfactory and successful stories. There are over 1.5 million users registered on the platform. However, even when it comes to providing something out of the ordinary, ThaiCupid dating site is not the one.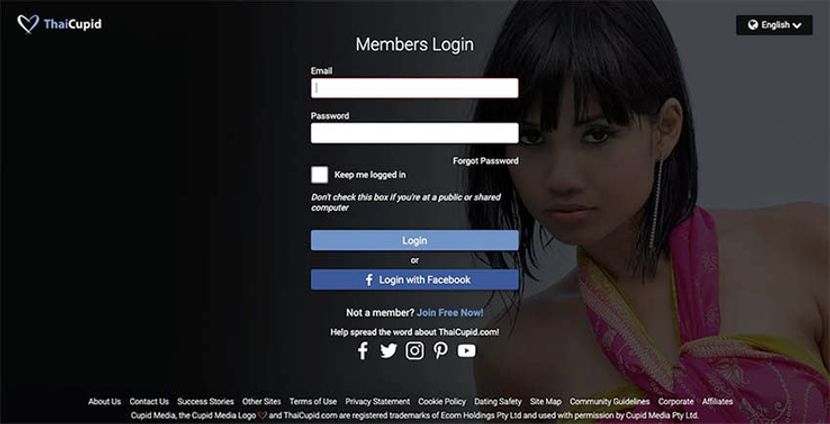 There are a lot of singles from Thailand who are on the platform to find their ideal partner and marry. However, there are only 15% of women on the platform. Find out all the features and benefits of the site in this Thai Cupid review.
First impression
ThaiCupid has a user-friendly website which has all the features and functionalities laid out properly. The site is quick and easy to navigate through. Moreover, the website is secure for dating as well as transactions. The design of the site is appealing, and it follows a blue and white color tone, which enhances the dating experience. The site is also available in 25 different languages to ensure that men from all around the globe do not face any issues in search of the perfect partner. The terms, policies, success stories, contact information, etc. are all available on the sitemap at the bottom.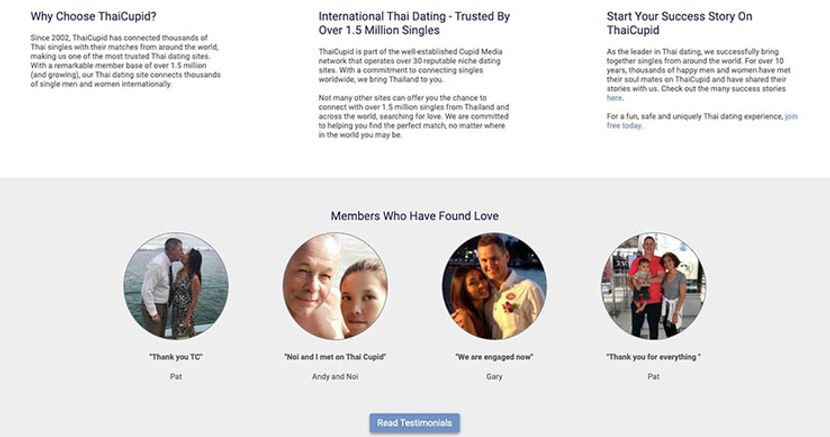 How do you set up your profile?
Creating a profile on the platform is simple and can be completed in a few minutes. The sign-up process provides the users with an option of logging in via Facebook.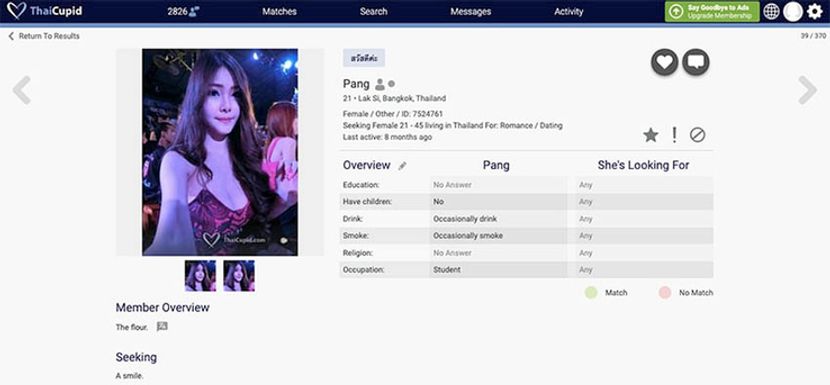 However, if one wishes to fill their details, the following are the requirements of the site:
Name
Email
Gender
Age
Password
The accounts on Thai Cupid will be approved instantly without any verification. This is one of the major drawbacks of the site. However, to get a verification badge, the user will have to go through a procedure of providing documents and other information. Once the registration process is done, the users can put a profile picture for better matches. Moreover, they will have to provide some basic details regarding their interests and personality. This will help the users in getting better matches.
How do you search and sort the ladies?
Right after the registration process, the users will get a number of profiles of attractive women. However, these might not be the ones you are interested in. To find the woman of your choice and interests, there is an advanced search feature. This provides the users with a wide range of filters to find out their ideal woman.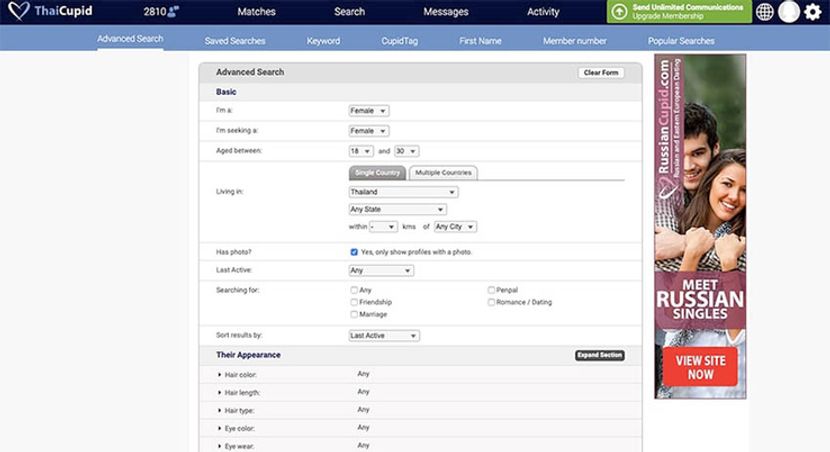 Following are some of the filters on the site:
Gender
Age range
Country
Distance
Physical appearance
Lifestyle preferences
Background and cultural values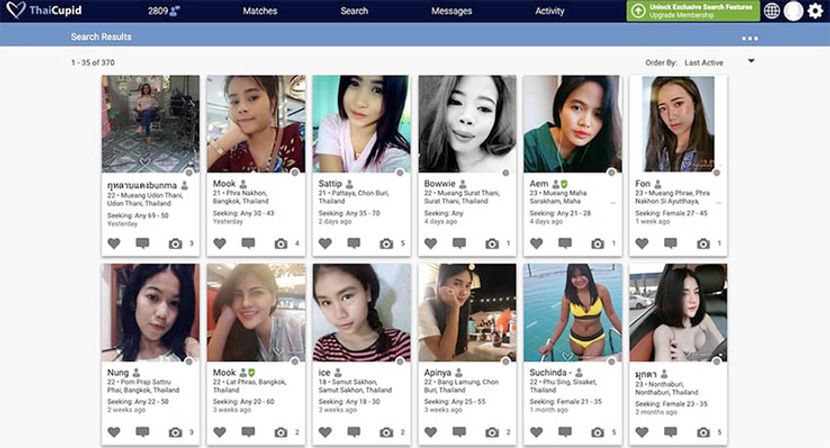 All of these options have multiple questions under each. Moreover, users are also allowed to form up their own questions on ThaiCupid website. A good feature of the dating platform is that users will not be able to proceed without verifying their identity. This prevents spammers from proceeding beyond this point.
How do you communicate?
There are a decent number of communication tools available for members who are interested in attractive Thai women. However, all these tools will require premium access. Premium members to communicate with any profile via Instant Messenger. There are tools such as live chat, translation of messages, etc. that attracts people to Thai Cupid dating site. However, compared to other platforms, the site does not have a large variety of communication tools for its users.
Does ThaiCupid have a mobile app?
Yes, ThaiCupid has a mobile application to provide users with a simpler way to find and communicate with beautiful women on their platform. However, the application is only available for Android users.

The app has a simple navigation and is free to download from the Play Store. The application provides the premium users with an option to date on the go and from anywhere at any time. The application is neat, but when compared to its competitors, it can be considered an average mobile application.
A free version of the site
There are not a lot of features available for free users. Free users can create an account on Thai Cupid website in no time. Also, they can create their profiles to look for beautiful women. They have the option of using only the basic search for matchmaking. Free users can also show interest in other profiles. Moreover, if a paid user messages a free user, the free user can communicate with that profile. Aside from these average features, a free user is not allowed to communicate or take major advantage of the platform.
What does a paid membership offer?
Premium users have to option to communicate with every profile. They can take advantages of all the features of the site. Communication tools such as live chat via instant messenger is only available for paid users. Users can also browse without any ads and do so anonymously. Apart from these, paid users of ThaiCupid dating site can rank above other members, highlight their profiles, translate messages and use advanced search features.
There is no credit-based system on the platform. Instead, the users have options to two different types of memberships.
Pros and cons
Pros
To proceed, user will be required to verify their identity
Safe and secure site
Available in multiple languages
Cons
All the communication tools are for paid users
Expensive pricing policy
The customer support of ThaiCupid website is not up to the mark as per multiple Thai Cupid reviews. The support team rarely responds to queries and takes a long time to come to a conclusion. More often than not, the solution provided is not satisfactory. However, the site is safe and secure to use in every manner. The users can still reach out to the customer support team at support@thaicupid.com.
Frequently Asked Questions
Only registration and basic search features are free on the site.
How to create a profile on ThaiCupid?
How do ThaiCupid credits work?
How can I delete ThaiCupid profile?
How many members does ThaiCupid have?
Can I use ThaiCupid anonymously?
How can I know that the profiles are real?
How long does it take to have my profile approved?
What can I do to keep my account safe?
There are multiple better dating sites available on the internet for men who are interested in beautiful Thai women. As analyzed in this ThaiCupid review, there are not enough features and benefits for the users to utilize the paid services of this platform.
However, users can still try their luck and search of attractive women on ThaiCupid.