ThaiFriendly Site Review
ThaiFriendly is an online dating platform for people who are interested in Thai women. The platform currently has over 1.9 million users, and there are around 1000 new users daily. The women on the platform are mostly looking for friendships and starting solid relationships with western men.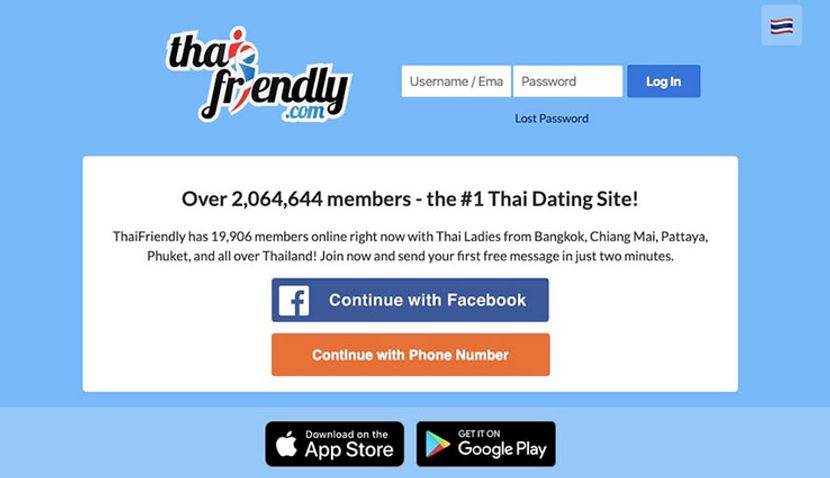 The ThaiFriendly dating site is free to use for everyone. Also, there are numerous options available on the platform. The majority of the profiles on the site are women and ladyboys from the country. Find out more details about the site in our detailed ThaiFriendly review.
First impression
ThaiFriendly dating site is pretty simple to use with all the features and functionalities. For the sign-up procedure, the user will have to provide the basic personal information to complete the profiles.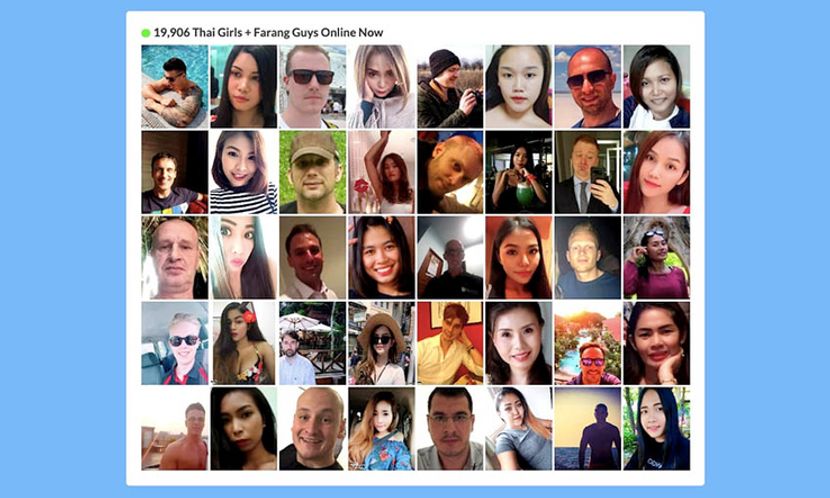 After that, one can look for beautiful women on the platform without any hindrance. The site is mainly for men who are looking for attractive women from the Land of Smiles, Thailand. It is free to join, and in no time, an individual can complete the profile. There is a huge selection of women for men to choose from. Most men have been successful in arranging a date with a beautiful woman from the site.
How do you set up your profile?
Setting up your profile is a quick procedure. At the initial step, the users will be required to register on the site. They can do this by two methods, using Facebook sign-up or Phone Number. The Phone Number option requires the users to enter their phone number and then they will receive an SMS or a WhatsApp message with the confirmation code.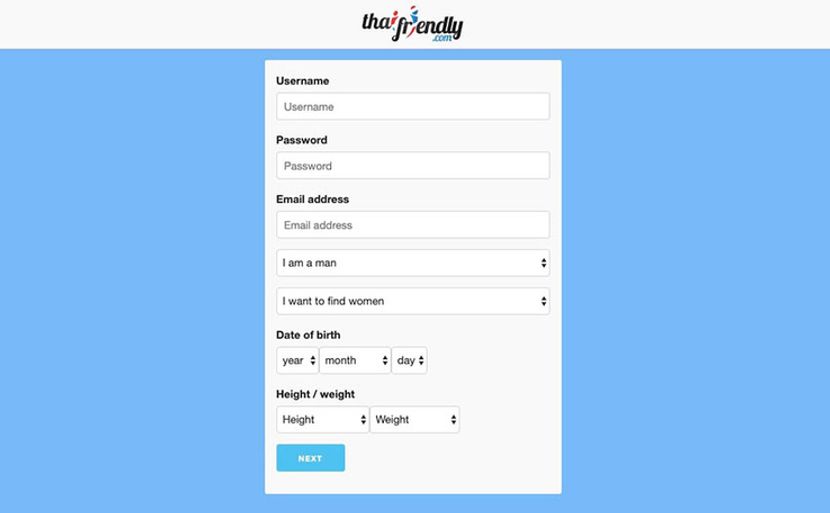 After the phone verification is done, the user will be required to fill out details such as:
Username
Password
Email address
Gender and preference
Date of birth
Height and weight
Post this, the new users will be required to fill out some basic details to complete the profile setup. These will be a few questions which help the user in getting better matches on ThaiFriendly website. On the basis of these questions, users will be matched with women of their preferences and with the same interests.
How do you search and sort the ladies?
There are two types of search options available on Thai Friendly. Users can opt for a basic search or an advanced search. The basic search is free, and any user can use it. The basic search provides users with options such as age range, education, and location. Whereas, the advanced search helps the users to find women closer to their liking.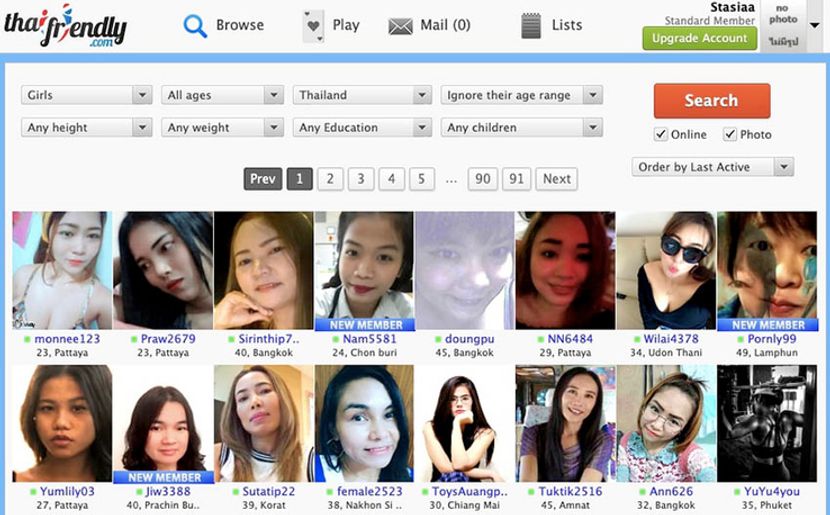 The filters in advanced search are as follows:
Basic filters from the basic search
Height and weight
Physical appearance
Marital status
Children
Level of education
The search algorithm on the platform is quite useful as it provides the users with accurate matches. The location filter on ThaiFriendly can help users in look for women in different places of Thailand. By doing this, you won't be communicating with a woman who lives too far. However, there are no match suggestions on the platform. Instead, users can find the most recently active users on the portal.
How do you communicate?
ThaiFriendly dating site has a good number of features for the free users as well. Users can show interest in other profiles, add them to your favorites, and send messages. However, there are restrictions when it comes to free users. A paid user is allowed to use all the features and functionalities of the site. There is a chatroom as well, which allows men to communicate with attractive women of Thailand. It is recommended to be direct with a Thai woman. Whatever your intentions are, clear it out at the right time.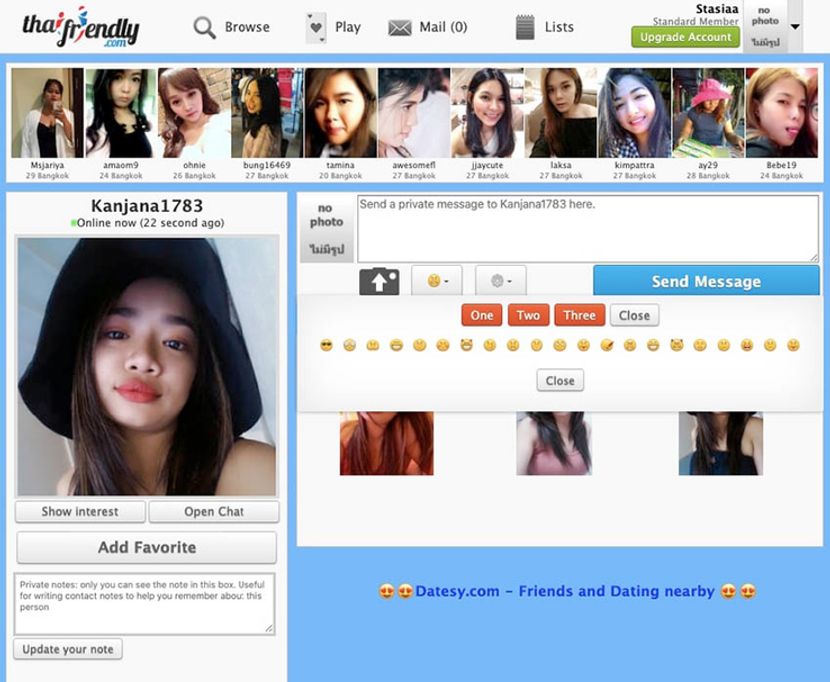 Does ThaiFriendly have a mobile app?
Yes, Thai Friendly has a mobile application that is easier to use compared to the website. The application is available for both Android and iOS users for free. All the features and functionalities of the app are similar to that of the site. The messaging feature is much more user-friendly, and the app offers a better and smooth browsing experience. However, app users do not have access to their favorites list. A lot of the features on the application are only for premium users. Moreover, the price of monthly subscription on the app costs around $19.99, which is cheaper when compared to $24.95 per month as on the desktop site. It is much more beneficial for users to purchase a membership on the app.
A free version of the site
Free users can add profiles to their favorites list, show interest, upload and view photos and much more. As per Thai Friendly reviews, the platform allows free users to message other profiles at a gap of 10 minutes between messages. Free users can also utilize the basic search function of the message. However, most of the features of the site are for premium users. So, if you are looking to get solid results in quick time, consider selecting a premium membership.
What does a paid membership offer?
Premium members have the freedom to use all the features and facilities of ThaiFriendly website. Users can send unlimited messages on the platform to other profiles. They can also take advantage of the chatroom. Also, the advanced search features which have some useful filters are also available only to premium users. Premium users can browse anonymously. They can also use the lists to find out who has added them to their favorites. Users can also highlight their profiles for better and more frequent matches.
ThaiFriendly dating site does not have a credit-based system for their premium services. Instead, there are membership plans.
1 month membership
USD 24.95
3 month membership
USD 49.95
6 month membership
USD 69.95
12 month membership
USD 99.95
Pros and cons
Pros
Messaging is available for free users
Large selection of Thai women
Quick and high reply rate
Cons
Ineffective customer support
Only accepts PayPal and credit cards
Customer support
There have been multiple ThaiFriendly reviews that have criticized the customer support of the site. The support team usually does not respond to emails, and when they do, it takes a long time to get back. Moreover, the support team does not provide satisfactory solutions.
Frequently Asked Questions
The site has free registration, matchmaking and sending messages at every 10 minutes.
How to create a profile on ThaiFriendly?
How do ThaiFriendly credits work?
How can I delete ThaiFriendly profile?
How many members does ThaiFriendly have?
Can I use ThaiFriendly anonymously?
How can I know that the profiles are real?
How long does it take to have my profile approved?
What can I do to keep my account safe?
Even though ThaiFriendly is a new dating site, there are a number of options to attract singles who are interested in Thai women. Already, the site has over 1.9 million users on the platform, which shows the benefits and features have attracted people.
In this Thai Friendly review, we found out that there are benefits for free and premium users. However, until and unless you try your luck on the platform, you will not get any results.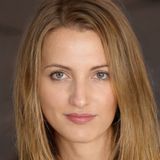 Marina Egerton
Content Writer
Marina Egerton is one of the most experienced professionals in the dating industry. She takes part in national conferences and has publications in the top media on psychology, relationships, and self-presentation. Marina creates helpful content that teaches men the tools, opportunities, and other features of international dating.
View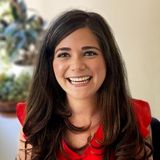 Logan Ury is the director of relationship science at the dating app Hinge. In this role, Logan leads a research group that helps people find love. With a command, she investigates the behaviors and attitudes of successful daters. Logan has publications in The New York Times, The Atlantic, GQ, and Glamour.-
View