BravoDate Dating Site Review
Today, we do everything online—and the dating industry is not an exception. The industry of online dating is on the constant rise—More and more love stories are created due to online dating sites.
In this BravoDate review, you will read information about one of the most famous dating networks—the Bravo Date site. Such topics as its safety, database, overall look, and functions will be discussed below. We've tested the Bravo Date site ourselves and analyzed all the related articles found to understand if this site offers enough to be called one of the best sites for international dating.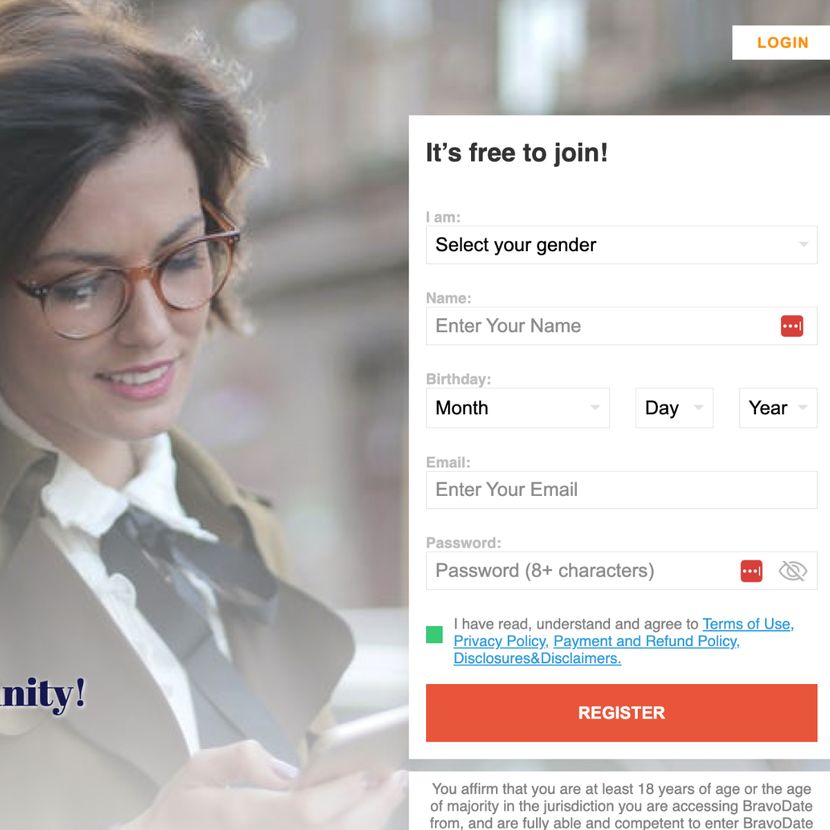 First impression
Let's begin the Bravo Date review with the first impression this site makes. How does this website look and feel at first glance?
Bravo Date respects the personal time of a user, that's why the interface of the network is simple and troublesome. You won't come across ads, strange articles, or other useless information. By visiting an online dating site for the first time, you will be strictly redirected to the sign-up form that will make you a member of a social network and provide access to all the services and possibilities that are presented to the site users.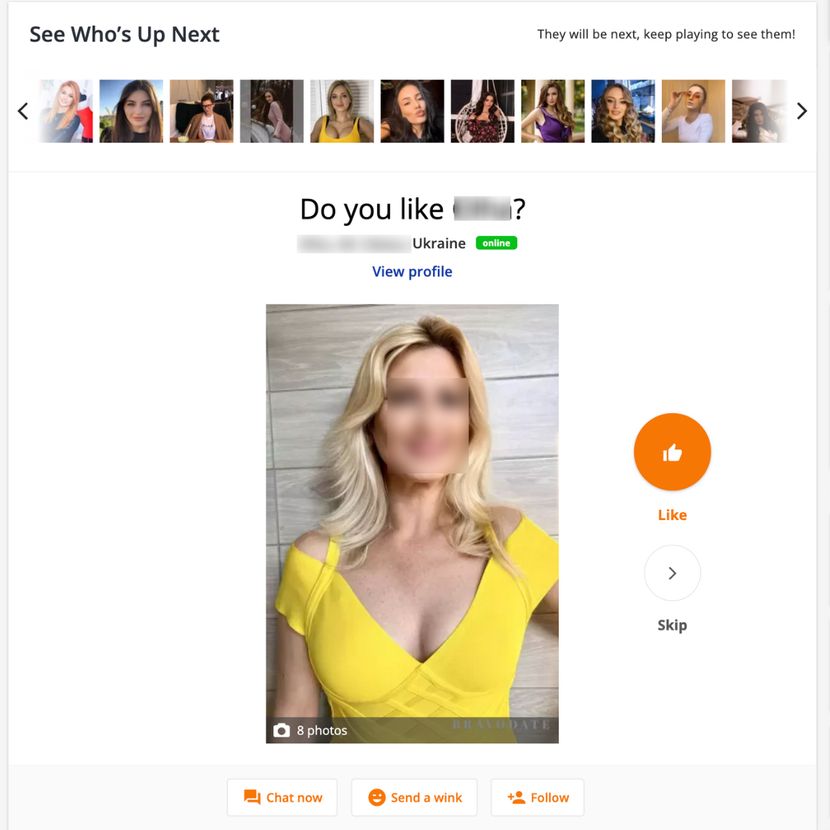 The interface is visually pleasant and doesn't disturb the eye of the user. The colors aren't annoying—the main tones are closer to the nude palette. The color scheme is another thing that distinguishes Bravo Date from other dating sites—it's very calm and relaxing here. The website works perfectly on smartphones, too—but we'll talk about it later in this site review.
How do you set up your profile?
The registration process is simple—if you want to join BravoDate, just fill out the form on the main page of the website. Here's what information you'll need to provide to sign up for one of the top dating sites for Ukrainian women:
Your gender
Your name
Your date of birth
Your email
The password you will use
However, it's not the end. The next step is to add some unique, peculiar information about yourself. It's a mandatory point because there's a special matchmaking mechanism that will use further information to search for your perfect soulmate. And then, her or his profile will be shown on your page, and you will be able to communicate. The additional information for that step includes:
Your dating expectation—who are you looking for: a woman with kids, a penfriend, a woman who loves kids, an online date, and a person for romantic relationships? What should her marital status, education level, and religion should be? You'll be able to answer all these questions during the registration on the site.
Facts about you—your hobbies, interests, your appearance, body type, state, etc.
After mentioning this data, you need to add some photos that will resemble you as a person for everyone to perceive. That is the last step in creating your profile.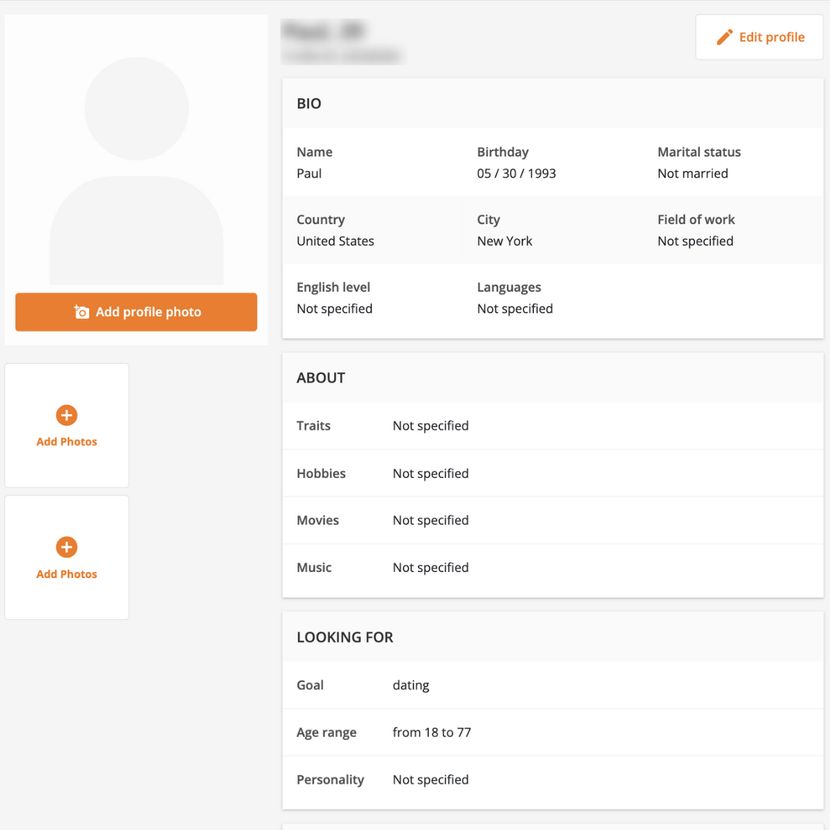 BravoDate site review: Top profile tips
Let's continue our Bravodate review. How to create a perfect profile on Bravo Date? These 5 tips will help you attract more ladies or men:
Photos are important. You can skip the "upload a photo" step during the registration, but we do not recommend you doing it because that's not how you get likes and messages from women. Put yourself in their shoes: would you send a message to a woman without a profile picture? There are certain rules when it comes to a profile photo.
For example, it's recommended to upload a full shot of your face—such photos typically get more likes and messages according to the related articles founded online.
It would also be great to add a full-body shot—nothing NSFW, of course, just a photo which includes your face, your torso, and a cool background.
Photos with your dog or cat, photos that show your hobby or interests—all these pictures work perfectly on dating websites.
Your profile bio and description should be interesting and catchy—but it shouldn't be too long because no one wants to read long profile descriptions on a dating site.
How do you search and sort the ladies?
The BravoDate website has a functional system that allows you to save time by automatic search of the matches for you. It's a function on the platform that helps you to look for women by adding filters. If you use it, you automatically see those ladies that are compatible with your criteria.
Below, you can see the points you will be able to indicate:
Age
Countries
Religion
Drinking and smoking habits
City
Level of education
Children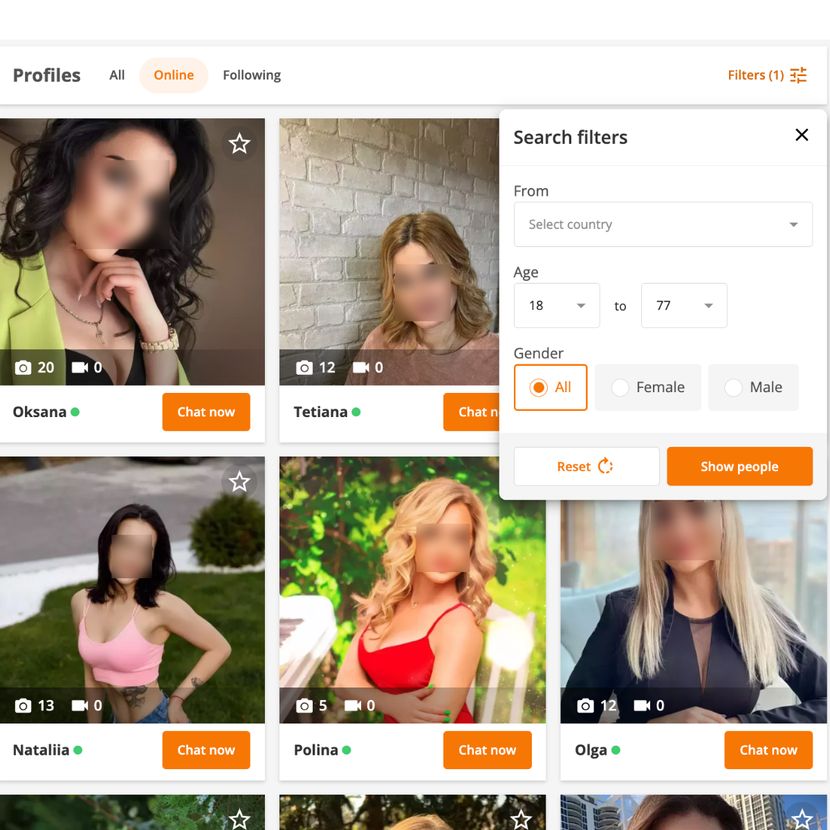 There's no need to spend all day to search for the perfect woman if you fill the filters about your demand. The next options can be selected for you to become closer to your crush:
Country
Marital status
Her religion
Drinking/smoking
Age boundaries you seek for
Her city
Her children
Level of her education
Her ID
The usage of these filters will make your communication process much more convenient. Because of them, you will spend your time with Ukrainian and Russian women you really search for.
Top sites like Bravo Date: 5 alternatives you should try
JollyRomance—this platform is a perfect option for those interested in women from Russia, Ukraine, and other Eastern European countries. Convenient messaging tools, great search filters, a lot of free services—all this is available on JollyRomance. Visit site and sign up right now to get 20 free credits!
Amour Factory. The Amour Factory website is a perfectly balanced dating site where everyone will find something interesting. Thousands of attractive Slavic women, very convenient live chat, intuitive interface, affordable price and credit system that allows you spending—AmourFactory is certainly worth visiting.  
TheLuckyDate website. This is a new dating platform that hasn't built a reputation yet—but it's a very promising site. It's very convenient and easy-to-use, it works perfectly on both smartphones and desktops, and it has lots of beautiful ladies from all over the world. Sign up now to get 2,000 free credits!
KissRussianBeauty is something completely different. It's a top-notch dating website with a video chat feature, a great Android mobile app, and with lots of cool premium services.
La-Date is pretty much like Bravo Date, but it's focused on Latin women instead of Slavic ladies. Free advanced and basic search, convenient mobile version of the site, 20 free credits after the registration—if you are interested in women from South America, this website is exactly what you need to meet them.
How do you communicate?
When the search is completed, you'll need to communicate with women. There's a big list of communication tools you may use to chat and get in touch with anyone on the site. The most important thing is to be open-minded and easy-going, that is to accept all the hints you may be given from the women's side and to be generous on the compliments.
Bravo Date offers you a large list of communication tools—text messaging, chat, video attachments (not video calls), etc. Slavic women love when men pay constant attention to them, so try to be as attentive and sociable as possible.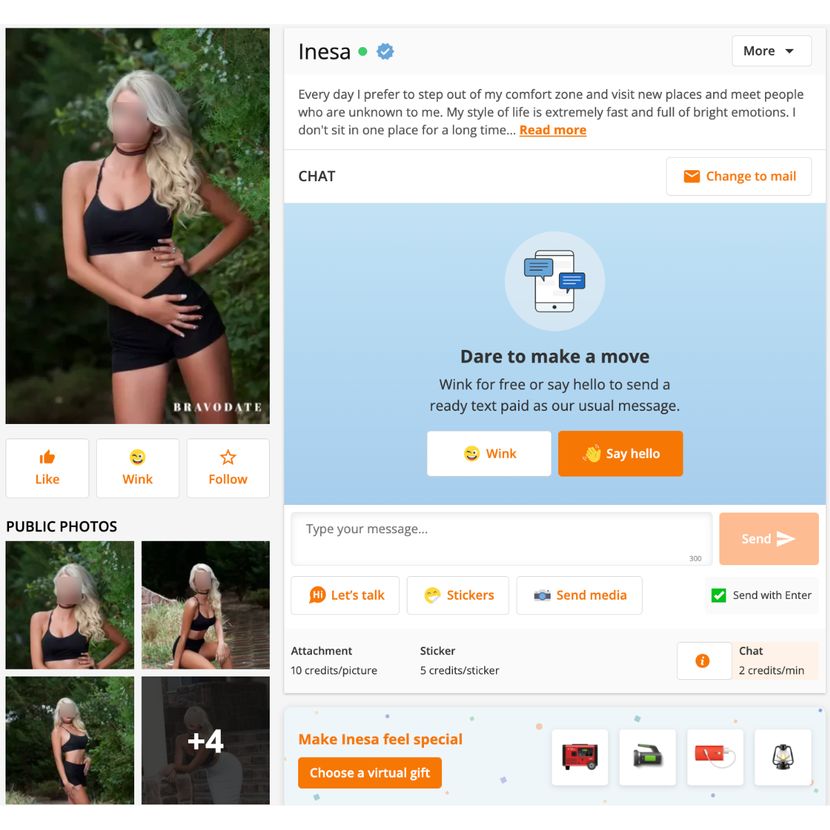 Does BravoDate have an application?
No, there's no application for mobile phones. However, the site is transformed to use it on the mobile versions. So, you can easily use this dating service on your phone and communicate with your soulmates distantly from the computers. In a few seconds, you can get access to the same features available for PC-version users from your smartphone!
Is any free version of the site?
Free services are connected with basic communication abilities like searching (both simple search and advanced search), seeing who is online, and observing the profiles of women on the website. 
What does a paid membership offer?
What about the paid functions, their aim is to nourish your dialogue with different supplements and additional features. If you buy credits, you'll get the possibility to:
Send mails
Check the photos of foreign ladies
Keeping in touch with female accounts
Sending virtual presents
Viewing private photos
Sharing gifts (real and virtual gifts) with real women
Winking to the one you liked
Now, let's talk about the Bravodate costs and prices in more detail.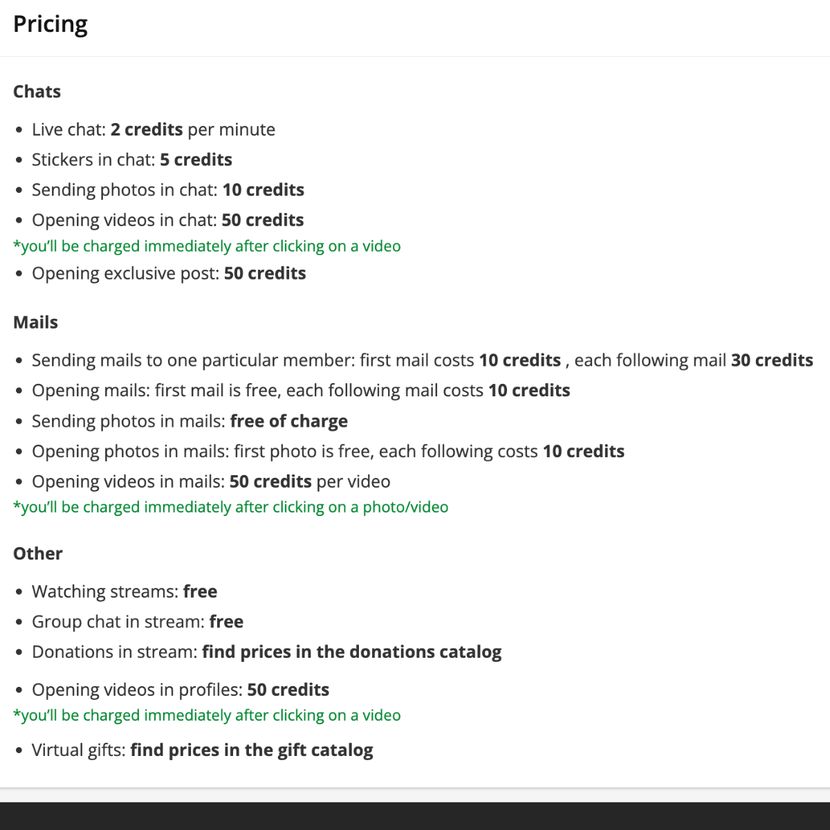 Credits and paid services: how much do they cost?
Bravo Date has a credit system—you buy credits and exchange them for messaging tools and other services. There are 5 credit packages available:
The first package is the least profitable one—if you buy 20 credits for $10, you'll pay 50 cents for 1 credit while it's only 20 cents for 1 credit if you buy the most expensive package. The good news is that you'll only need to pay $2.99 for 20 credits instead of $9.99 if it's your first purchase—it's a huge welcome bonus for new users. Taking into account 20 free credits, you'll be able to get 40 first credits for only $2.99!
The number of messaging tools is quite large here—we've already listed them, so here, we'll talk about how much do these tools actually cost.
Live chat costs 2 credits for 1 minute.
Sending 1 sticker in chat costs 5 credits.
Sending 1 photo in chat costs 10 credits.
Opening 1 video in chat costs 50 credits.
As for mails, this messaging service is more expensive than live chat. Here's the cost:
Sending the first mail to a member costs 10 creditsSending the second and next mails to a member costs 30 credits
Opening 1 mail costs 10 credits
Sending 1 photo in mail is free
Opening 1 photo in mail costs 10 credits
Opening 1 video in mail costs 50 credits
That's not all—there are lots of other premium features here. For example, you can:
Request a meeting—it costs 625 credits
Request personal information of another member—it's free but you'll have to spend at least 3,000 credits on communication with a certain member
Send gifts—a gift will cost you from 500 credits (a small bouquet) to 15,000 credits (a brand new iPhone)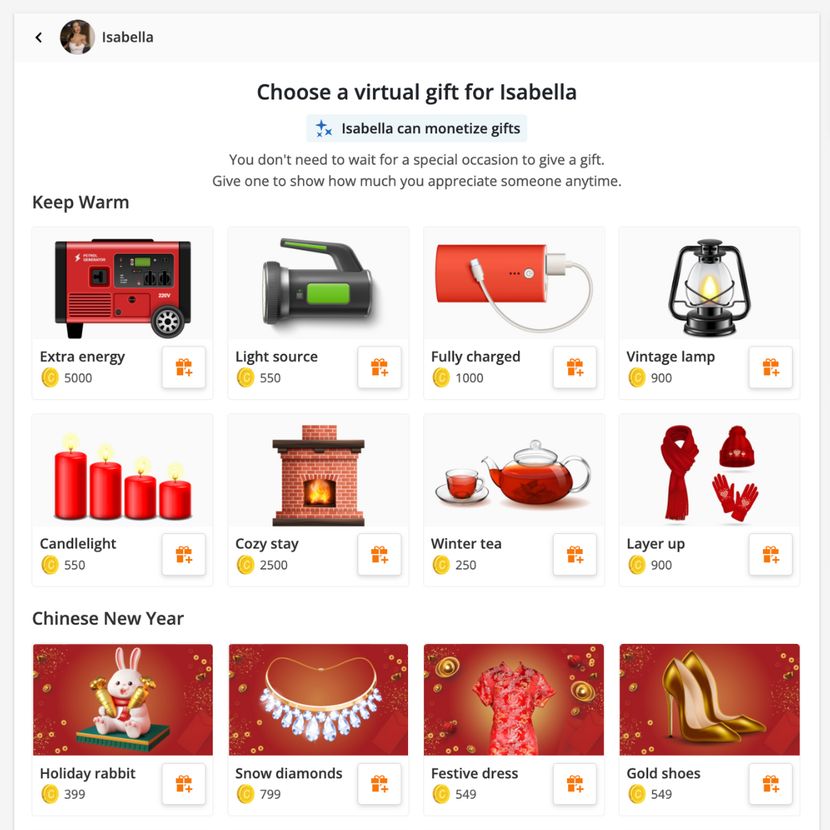 How to not get scammed on Bravo Date?
The team of the site is doing its best to protect the Bravo Date users—but there are always fake profiles and scammers on dating sites. Here are the top 3 rules that will help you protect yourself from getting scammed:
Always do Google reverse image search to make sure the person you're chatting with is not registered on other dating sites under different names—it's a huge red flag
Do not send money to women you've met on a site—if someone wants you to send them money before you even meet, it's a sign of a scammer
Chat with Verified members only—these members have confirmed their identity
Advantages and drawbacks of the site
Pros
Worthwhile communication tools for pleasant communication
Extended search filters (both basic search and extended search tools are free)
Lots of beautiful Ukrainian and Russian women with serious intentions
A large number of services offered
Generous site offers for new members
Cons
No video calls, only text messages, and profile videos
Multiple communication features are paid
Impossible to exchange personal contacts on this website
The comfort of the members is an important point for the team of Bravo Date. That's why there's a special system that offers a range of different aids you can need during the usage of the site. For example, if you have trouble with signing up or you forget your password, you can always send a request for help to the customer support team and find the solution together. Assisting you is the primary task of the customer support team, so don't be afraid to consult with them.
F.A.Q
Is the registration free?
Yes, the process of becoming a member of this dating platform doesn't need extra payment. However, to use some extra features on the site, you have to purchase the credits.
Can I meet the ladies from different countries there?
Are there any underaged users?
Is there a video call feature on this dating site?
How to delete my Bravo Date profile?
Is Bravo Date an expensive website?
To sum up, BravoDate website is a leading platform where you can find serious relationships or a great friend. Not only the security system and payment methods are well developed and very comfortable, but also other services have a high level of quality. Besides, a wide database allows you to find a woman in accordance with your tastes. Don't be afraid to begin your love path on the Internet, especially if you use this online dating platform. Bravo Date site has already helped thousands of couples to be connected online!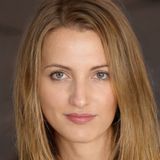 Marina Egerton
Content Writer
Marina Egerton is one of the most experienced professionals in the dating industry. She takes part in national conferences and has publications in the top media on psychology, relationships, and self-presentation. Marina creates helpful content that teaches men the tools, opportunities, and other features of international dating.
View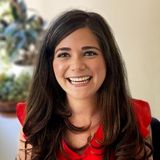 Logan Ury is the director of relationship science at the dating app Hinge. In this role, Logan leads a research group that helps people find love. With a command, she investigates the behaviors and attitudes of successful daters. Logan has publications in The New York Times, The Atlantic, GQ, and Glamour.-
View