La-Date Review
La-Date is a mono-national dating website that is known as a romantic place to connect to beautiful women from Latin America. The site is popular among Western men, especially singles from the US, and it has around 97K visits per month. If you are interested in joining the platform, enjoy our La Date review and find everything that you need to know about it before committing.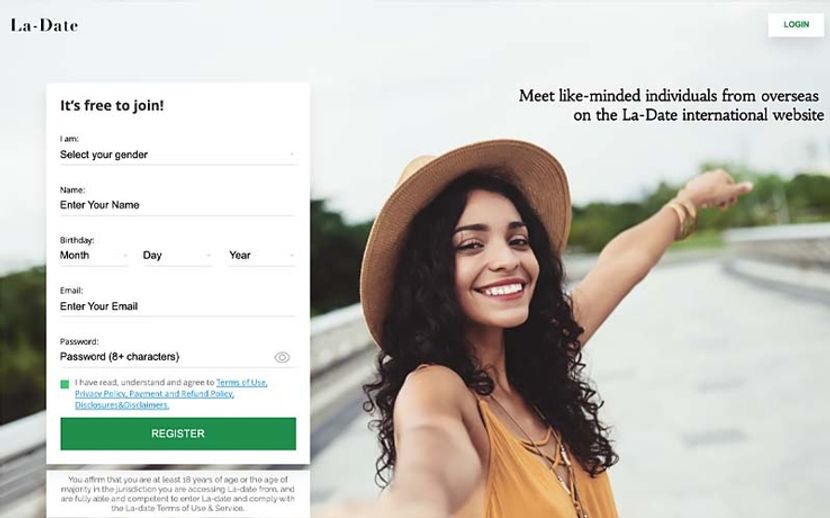 First impression
Starting our La-Date review, we strive to not compare the site with other niche platforms and only explore what it currently has to offer to its users.
When you click on a site for the first time, the photo of the beautiful Latin girl catches your eye; the photo that shows the type of woman you can meet on La-Date. The design of the site is modern and minimalistic. There are no ads or flashing banners that are attracting people to join. But the simplicity and value that you get from the rundown of the main qualities of the Latin women create a desire to explore the site more.
Our first impression is positive. La-Date has a stylish design, intuitive navigation, and easy-to-use features. It is suitable both for experienced users and those who have never tried online dating before.
What do you need to register on La-Date?
To become a member of La-Date, you must be over the legal age and undergo a quick and free registration process. The complete sign-up takes only around 5 min, and you need to fill in some basic information about yourself, add a valid email address, and set a password. After registration, you can use all the services of the site and browse women's profiles.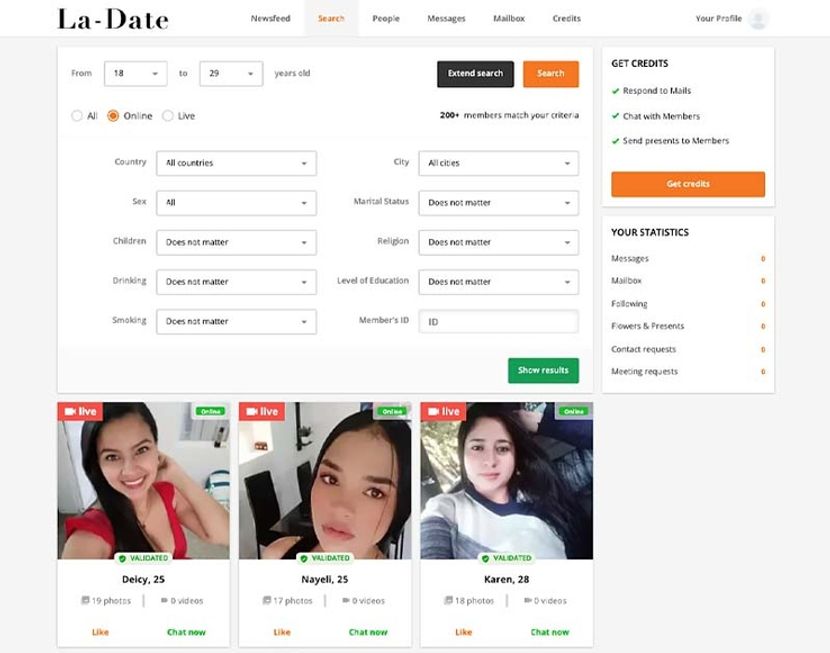 How do you search and filter the women?
Extended search can help you find a Latin girl that is a great match for your dream. You can filter women based on their:
Location
Marital status
Religion
Children
Habits 
Level of education
User ID
This tool helps you to choose among thousands of Latin ladies you are compatible with. For example, if religion can be a deal-breaker for you, you can pick ladies only from a particular religion. Another option of meeting hot women on La-Date is through the Newsfeed page or 'People' feature. The Newsfeed is a kind of on-site social media, and the 'People' feature is a free matching game that allows you to skip or like profiles of random Latin beauties offered to you.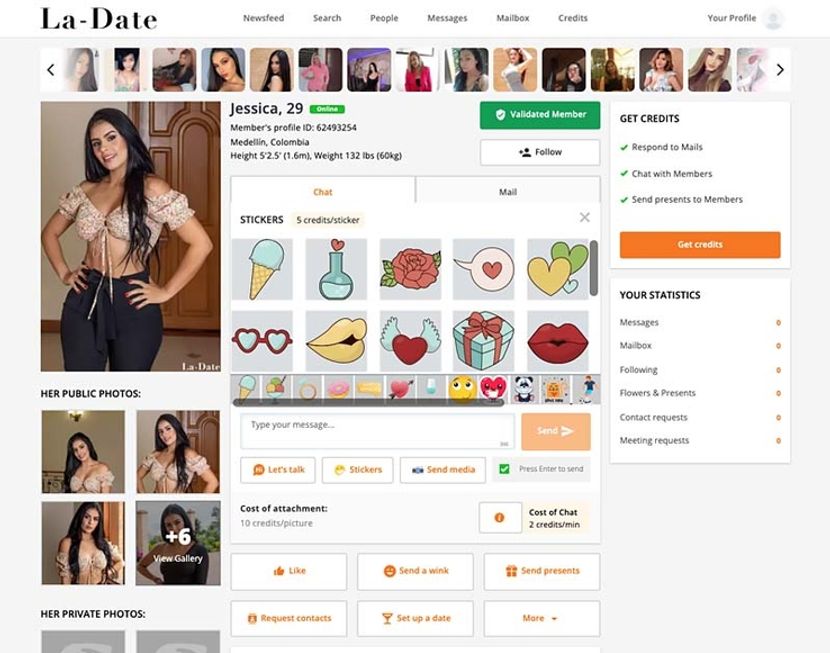 How do you communicate?
A strong suite of the La Date website is a variety of communication channels. You can talk with a beautiful Latin woman through:
'Send a wink' feature. A quick way to show your interest to a Latin girl. Just click the 'Send a wink' button on the woman's profile and see if she responds. It's a free-to-use feature.
Chat. Text communication with any lady online. It costs only 2 credits per minute. Also, for extra payment, you can attach stickers, use emojis and send media.
'Let's talk' feature. Prompt communication service, that can come in handy to more shy guys or someone who prefers to have some ideas just in case. It costs the same as a regular chat.
Mail. Sending the first letter is 10 credits, and all following will cost you 30 credits each. Letters allow you to write longer texts, plus you can attach some photos for free.
Request contacts. After spending 3,000 on communication with a girl, you can request her email and phone number for free.
Gift/Flowers delivery. Make your Latin beauty a surprise with some flowers or a small gift. The prices vary, but a standard bouquet of roses is around 500 credits.
Some communication ways are quite ordinary yet working, while others are more exclusive to La-Date. But all of them are more than enough for comfortable communication, building relationships, and changing things up when you feel like it.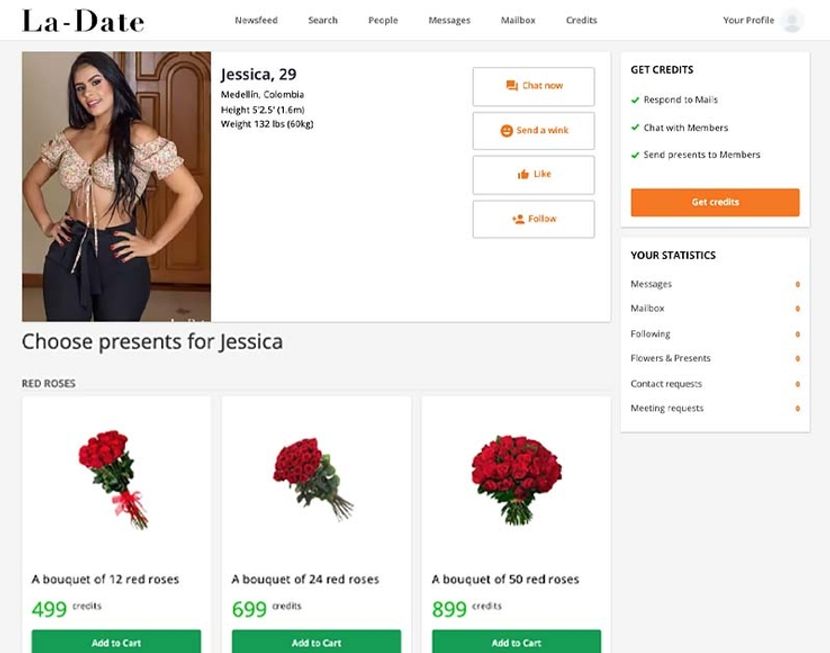 Is there a mobile app?
Unfortunately, there is no app available at the moment. But the well-developed design of La-Date is mobile-responsive, which means that you can use it on mobile devices.
A free version of La-Date
Free services on La-Date give you an excellent opportunity to explore the site, check out design, navigation, and whether or not you feel comfortable using the site. You can also browse profiles of hot Latin singles and approach ladies you like through liking their profile or the 'Say Hi' feature. A free version of the site can help you meet your future Latina girlfriend, but to start your relationship, you need paid services. However, La-Date doesn't make users pay any fees. You pay only for what you use.
Paid membership and the opportunities it gives
To use paid services on La-Date, you need special virtual currency—credits. All new members can get a deal of getting 20 free credits and buy their first 20 credits with a discount for only $2.99. The regular La-Date pricing is as follows:
Having credits on your account gives you access to all services on La-Date. You can use chat, mail, order a delivery of flowers or give a small present. The cost of the service varies depending on what exactly you decide to use.
Pros & Cons
Check out some main advantages and disadvantages of the dating site that we found during our La-Date.com review!
Pros
Number of members
Variety of communication services
Bonuses for new members
Interactive matching game 'People'
Real-life gift/flowers delivery
Cons
Free communication is very limited
No app yet
Customer support
Robust member support is what completes your experience on La-Date. You can contact support through email (support@la-date.com) and ask about anything concerning site usage and services. It works 24/7.
Final verdict
Looking for a potential partner from Latin America is easy if you are using La-Date. There is a great selection of free and paid services of high quality that allow you to have a fun romantic chat in a comfortable environment. Also, a vast selection of ladies gives you tons of options!
F.A.Q
No. The La-Date website is a partly paid dating site, where only some services and features are provided free of charge, others require payment.
How does the La-Date credit system work?
Are Latin women on La-Date real?
How long does it take to become a member of La-Date?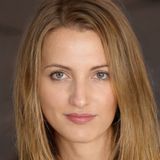 Marina Egerton
Content Writer
Marina Egerton is one of the most experienced professionals in the dating industry. She takes part in national conferences and has publications in the top media on psychology, relationships, and self-presentation. Marina creates helpful content that teaches men the tools, opportunities, and other features of international dating.
View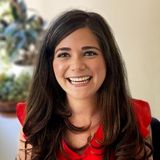 Logan Ury is the director of relationship science at the dating app Hinge. In this role, Logan leads a research group that helps people find love. With a command, she investigates the behaviors and attitudes of successful daters. Logan has publications in The New York Times, The Atlantic, GQ, and Glamour.-
View